Teaching YOU how to train your dog and improve its behavior
Professional Training for dogs 6 months or older ALL BREEDS-ALL PROBLEMS-REAL RESULTS
Because your dog is a beloved member of the family they are worth learning how to train. This program will teach you how to have a well trained dog that you can enjoy for years to come. I use a one-on-one individualized approach that is unique to an industry which generally practices large group classes on a weekly basis. I have found that these classes lack the personal instruction needed to deal with the individual traits and personalities of both the dogs and their owners. Some may tell you that group classes are better because it gives you distractions. There is a time and place for distractions. I believe that when you are concentrating on precision techniques yourself it is important not to have something distracting you. When your dog is learning a new command it is better to have him focused on your coaching at that moment. Once he has learned the command and is reliable, then we add distractions as a way to proof his reliability. First we create distractions privately with one other dog, then with many dogs in a group class environment.
PHASE ONE of your training is to complete all 10 private lessons:
The private lesson phase of your training includes:
Ten 1/2 hour one-on-one PRIVATE LESSONS (to be completed within 4 weeks).
Properly fitted training collar and custom 6' nylon leash
My 2 hour supplemental Dog/Owner Training DVD "Teaching you how to train your dog and improve his behavior"
Flexible scheduling
Upon completing your 10 private lessons you should be able to:
Walk your dog on a leash 3 different ways without pulling or jumping up on you or someone else.
Use "sit", "stay", "come", "heel" and "down" commands with verbal and hand signals, all under heavy distractions.
Teach your dog a command to turn and walk away from something he is interested in approaching or touching with his nose (a person coming into your house, or a piece of trash on the ground)
Call your dog back to you on your first command and have taught him not to ignore you, run from you or play the "chase game".
Set up temporary and permanent boundaries to control where your dog is allowed to go, even off leash at a distance.
Take away any interest your dog has to make contact with dogs out in public unless you introduce them on your terms.
Effectively use affection and praise to motivate your dog, not food or the "clicker", all in order to improve your dog's behavior at home and out in public and teach him to work for you.
After we lay this foundation we can cover how to handle any type of problem like: digging, barking, destructive behavior, escaping the yard, confidence building, aggression towards other dogs or humans and more...
The Process & Schedule:
This training employs a method that has been proven successful over 40 years of training experience. The process requires that you complete ALL 10 lessons, maintaining YOUR focus on REPETITION, CONSISTENCY & PATIENCE. Your ten half hour lessons are more effective when completed within 4 weeks. The first four lessons will be set up the first week (Mon-Thurs.) and then you will do two lessons a week for three weeks (Mon & Thurs). It is set up this way because if you had only one lesson the first week and were told to practice for the rest of the week, your dog may start misbehaving within a day or two and you may not know how to correct their behavior. You could end up practicing the wrong way for a week and not even realize it. Also, by setting up a more frequent schedule it gives you the opportunity to retain the information better and makes it much easier on both you and your dog.
Your lessons can be scheduled at your convenience.
PHASE TWO of your training is to attend Saturday Group Classes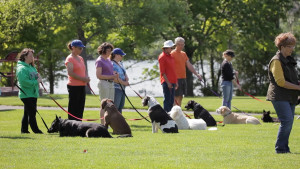 Once you complete the ten half hour private lessons you will be able to participate in our Saturday group maintenance classes. Check the event calendar for dates and times of group classes.  Group class has one goal: to PROOF your dog's skills around the distraction of other dogs and people. These classes are $20 each for obedience alumni.