Cara Putnam
Professional Dog Trainer/Instructor
At at Crossroads School of Dog Training, my goal is to improve dogs' behavior by teaching people how to communicate with their dog in a way that it understands so they can enjoy living with a well trained pet and family member.
Crossroads Dog Training offers professional dog training services to dog owners who want to enjoy living with a well trained, happy dog. My primary goal will be teaching you how to train your dog while strengthening the bond between pet and owner.
Using The Pace Method of dog training since 1998
Professional Dog Trainer/Instructor since 2003
Experience with 80+ dog breeds and have exceeded 10,000 hours of professional dog training instruction WITH OVER 700 CLIENTS.
Certified by nationally known master trainer and author Ron Pace.
Breeder/Handler/Trainer of GSD Canyon Crest Foxy Roxy , CD
Frequently referred by many local veterinary clinics and the Wenatchee Valley Humane Society for dogs with behavior problems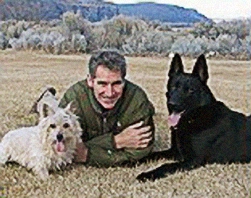 "Cara not only has the ability to train any dog that comes her way but, most importantly, she has the gift of instructing the humans."
Master Trainer & Author Ron Pace, Canyon Crest K-9 Training Center
SEAN PUTNAM
Cara's Husband
Since 2008 Sean has made it his mission to develop our training facility into a place that our customers love coming to. His goal was to create a safe, secure, clean property with top notch curb appeal. It takes a lot of work to have a full scale dog training business. Sean is a key component to the growth and success of Crossroads School of Dog Training, LLC.. he always enjoys getting to meet some of the customers and their dogs that come through training. And, he is one of the best puppy socializers for pups that come here with a fear of men. When he makes friends with the shy ones he always says "They can tell I love animals".
SHANNON DURFEE
Durfee VAS
Through her virtual assistant services business, Shannon provides behind the scenes support to our dog training business. Adding Shannon to the team has been one of the best decisions we have made. It takes teamwork to make the dream work! Her services have been customized to provide social media support , administrative support , email & phone support and marketing of all sorts, customer contact , website design and video editing . Her professional experience is truly an asset to us.