PUPPY PRESCHOOL
Give Your Puppy The Right Start In Life
One of the most critical times of your dog's life is at the age of 10 weeks to 5 months. In order to get the right start, I help give guidance to new puppy owners and teach them how to socialize, train and deal with everyday puppy problems in a very positive manner.
Puppy Owners will LEARN HOW TO:
Handle all puppy problems (nipping, chewing, housebreaking, jumping up etc.)
Properly socialize a puppy to other people and dogs - so that it will grow into a happy, confident adult dog you can enjoy living with as part of your family.
Train a puppy and lay a foundation for future obedience or hunting training. Teach your puppy sit, come, down, stay, heel, drop & take it commands and how to walk on a leash.
Develop the behaviors and skills you want to see in your puppy as an adult.
Puppy Preschool
For Puppies from 10 weeks to 5 months old.
Held once a week for 4 weeks (1 hour class)
Must be up to date on all vaccines (proof required)
Just $275
Many puppy owners quickly discover that their pet has issues with chewing, nipping, or jumping. Why? Because,  they were born with these natural instincts. Unlike other training schools that avoid dealing with these behaviors I will show you how to prevent bad habits from forming by learning how to properly raise a puppy and communicate with it what you want it to do or NOT do.
A Unique Puppy Socializing Experience
Because we only have a short window to mold the temperament of your puppy, that is main focus of this unique group class.  During this class puppies will be able to interact with other puppies while OFF LEASH and be touched and handled by the humans in the beginning and at the end of each class.  This will expose your puppy to all kinds of people and other pups and give him skills that will help him mature into a confident, outgoing adult dog.
Private Puppy Consultation
If you are not able to make class, or if I don't have one going, I offer private puppy consultations and training.
Why Puppy Training?
Start them on the right track because you can't go back
Congratulations on your new puppy. By taking the time now to properly train your puppy, you will be rewarded with a faithful, well-behaved companion for years to come. Many people think that teaching a puppy to sit, or training a puppy to come, is all that it takes to have an obedient, happy dog. However, properly socializing a dog is by far the most important objective of Crossroad's Puppy Preschool Class. You will learn how to properly socialize your puppy so they can grow into a happy and confident adult dog.
Learn about Housebreaking your puppy HERE
Adult Dog Obedience
Teaching YOU how to train your dog and improve its behavior
Professional Training for dogs 6 months or older ALL BREEDS-ALL PROBLEMS-REAL RESULTS
Because your dog is a beloved member of the family they are worth learning how to train. This program will teach you how to have a well trained dog that you can enjoy for years to come.  I use a one-on-one individualized approach that is unique to an industry which generally practices large group classes on a weekly basis. I have found that these classes lack the personal instruction needed to deal with the individual traits and personalities of both the dogs and their owners. Some may tell you that group classes are better because it gives you distractions. There is a time and place for distractions. I believe that when you are concentrating on precision techniques yourself it is important not to have something distracting you. When your dog is learning a new command it is better to have him focused on your coaching at that moment. Once he has learned the command and is reliable, then we add distractions as a way to proof his reliability. First we create distractions privately with one other dog, then with many dogs in a group class environment.
PHASE ONE of your training is to complete all 10 private lessons:
The private lesson phase of your training includes:
Ten 1/2 hour one-on-one PRIVATE LESSONS (to be completed within 4 weeks).
Properly fitted training collar and custom 6' nylon leash
My 2 hour supplemental Dog/Owner Training DVD "Teaching you how to train your dog and improve his behavior"
Flexible scheduling
Upon completing your 10 private lessons you should be able to:
Walk your dog on a leash 3 different ways without pulling or jumping up on you or someone else.
Use "sit", "stay", "come", "heel" and "down" commands with verbal and hand signals, all under heavy distractions.
Teach your dog a command to turn and walk away from something he is interested in approaching or touching with his nose (a person coming into your house, or a piece of trash on the ground)
Call your dog back to you on your fist command and have taught him not to ignore you, run from you or play the "chase game".
Set up temporary and permanent boundaries to control where your dog is allow to go, even off leash at a distance.
Take away any interest your dog has to make contact with dogs out in public unless you introduce them on your terms.
Effectively use affection and praise to motivate your dog, not food or the "clicker", all in order to improve your dog's behavior at home and out in public and teach him to work for you.
After we lay this foundation we can cover how to handle any type of problem like: digging, barking, destructive behavior, escaping the yard, confidence building, aggression towards other dogs or humans and more...
The Process & Schedule:
This training employs a method that has been proven successful over 40 years of training experience. The process requires that you complete ALL 10 lessons, maintaining YOUR focus on REPETITION, CONSISTENCY & PATIENCE. Your ten half hour lessons are more effective when completed within 4 weeks. The first four lessons will be set up the first week (Mon-Thurs.) and then you will do two lessons a week for three weeks (Mon & Thurs). It is set up this way because if you had only one lesson the first week and were told to practice for the rest of the week, your dog may start misbehaving within a day or two and you may not know how to correct their behavior. You could end up practicing the wrong way for a week and not even realize it. Also, by setting up a more frequent schedule it gives you the opportunity to retain the information better and makes it much easier on both you and your dog.
Your lessons can be scheduled at your convenience.
PHASE TWO of your training is to attend Saturday Group Classes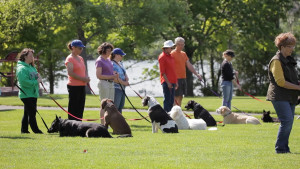 Once you complete the ten half hour private lessons you will be able to participate in our Saturday group maintenance class held on the first and third Saturday of each month. Group class has one goal: to PROOF your dog's skills around the distraction of other dogs and people. You may bring as many dogs to Saturday class as you want. Saturday group classes are included in the cost for the first year and can be renewed annually.
Advanced Training
Throw away your leash!
Many of my customers have enjoyed not only the experience of training their own dog, but have an improved relationship with their canine companion and want to advance their dog's capability.
Advanced Obedience Training
This is a series of 5 private lessons over the course of 3 weeks. The objective is for you to be able to throw away your dog's leash!
This training includes, but is not limited to:
Long Distance Off Leash Training
Hand Signals
Attention Span Building
KEEP IT ALIVE WITH FIVE!
You might call this a maintenance course intended to "tune-up" your dog. To ensure your dogs obedience proficiency over time you must keep your training alive!
Whether your dog could improve on walks, listen to you on a more consistent basis, do better at group class, or maybe it's YOU that needs a tune-up, let's get back to it with this 5 lesson course.
Pre-requisites:
Certificate and completion of 10 private obedience lessons & participation in at least 2 group classes.